3 Month Digital Marketing Training Bootcamp



1:1 Weekly Training on How to Manage Your Digital & Social Media In-house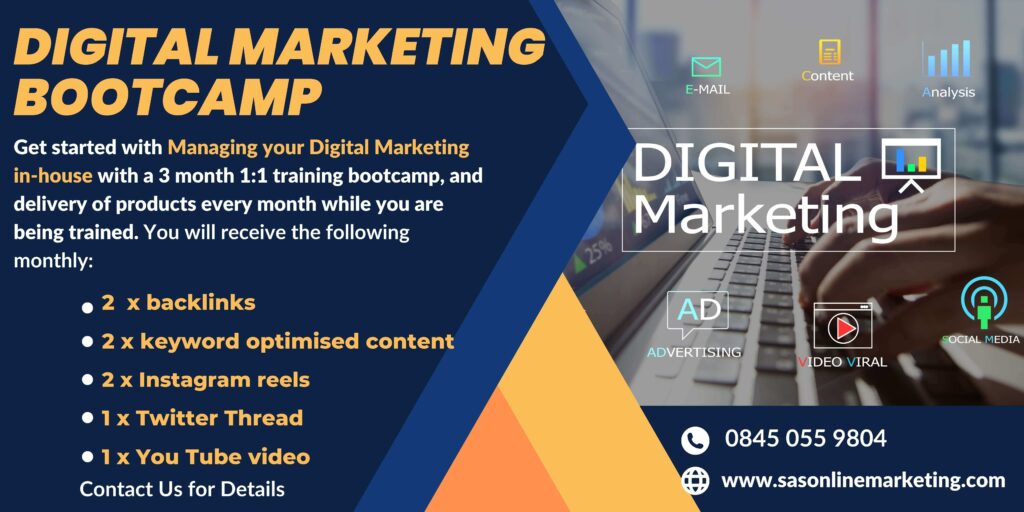 Our approach is to work with you or a resource in your business, to manage your SEO, Social Media and Digital Marketing in-house. We recommend the best platforms for your business and teach you how to maximise the power of each one.
This system allows you to lower your costs by managing the work internally.
In addition to the 1:1 training programme – you will also receive on a monthly basis during the 3 months:

2 x authority backlinks, 2 x pieces of keyword optimised content, 2 x Instagram reels, 1x Twitter thread and 1 x You Tube video.
All customised for your business and delivered alongside your weekly training sessions.
Who is This For?
Businesses who want to manage their marketing in-house
Start-Ups
Affiliate Marketers
Anyone who wants to drive targeted traffic to their website
What Will You Learn in Your 1:1 Training Programme?
You will kick start the process to rank your website and generate leads
Learn how to write content to rank, including the right use of keywords
How to source backlinks and implement them correctly
Inner linking content the right way – includes a free licence to our powerhouse inner-linking tool
Find out how to maximise the power of specific social media channels
Access to our list of the latest cutting edge digital marketing tools to streamline your work.
Who Are We?
With over 20 years experience in digital marketing, content marketing and project management. We have provided digital marketing services to clients, managed a platform of websites, and now are committed to supporting businesses to generate quality leads via digital marketing.
Call us for a complimentary consultation or submit a form with your details on the link below.